Please visit www.4solarsa.com for our new modern website with pricelists.
Solar Ray Solar Geysers - 10 Year Guarantee - Stainless Steel
Thursday - 05.06.2021
Introducing the LATEST Solar Geyser Technology. Solar Ray Geysers are made in Kyalami, a stone throw away from the legendary Kyalami Racing Circuit.
Made from High Grade 444 STAINLESS STEEL, you can be certain that it won't RUST and burst, like a conventional geyser will.
It uses the most efficient form of Solar Water Heating, VACUUM TUBES. Vacuum tubes are known for its SUPER Efficient heating characteristics. Originally designed for colder climates like Canada and Europe, one can simply imagine how well it will work in South African sunshine.
Install one of these systems now and reap the benefits of our ABUNDANCE of sunshine.
150lt Solar Ray - Stainless Steel - 19 Tube Panel = R20 980-00

200lt Solar Ray - Stainless Steel - 25 Tube Panel = R23 980-00
*Prices Include Full Installation and VAT. *Smart Timer and Backup element included.
---
SOLAR GEYSERS
---
Benefits of using solar geysers

:
There are numerous factors that influence how much money you spend on Water Heating each year, from the age of your kids to the duration of your shower. By making small lifestyle changes, one can drastically reduce the amount of Hot Water that goes to waste (not a bad idea since we are experiencing an El Nino year in 2016 and the droughts is hitting us hard - so saving water is just as important as saving electricity)
Below are just some benefits of changing to a Reliable Solar Water Heater from 4 Seasons Solar
Immediate

saving of

up to 90%

on electricity, as electric geysers consume the most energy in your home.

Protection from future tariff increases, increases of 12.69% will kick into effect on 1 July 2015. You can read about it on the Eskom website by clicking HERE
A Geyser element = 3000 Watt, a light bulb = 60 Watt. (50 times more electricity per hour).
Having hot water when others might not (as long as there is sun, you wil have hot water)
Protection from future prescribed consumption laws or quotas.
The less energy you consume, the less your energy tariff.

Conserving the environment - saving

3.0 tons

of carbon gas emitions per year.

NB: In order for you to achieve maximum savings, it is VERY important to size your system correctly. If you currently have a 200lt Geyser with 4 people in the house, it would be better to Size Up and go for a 300lt Solar geyser.
---
---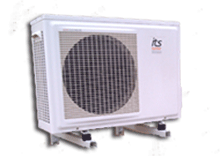 its
5.0kw
Super
Heat Pump
- Super Efficient Water Heating - The only Heat Pump in South Africa with a *Patented* integration technique, to prevent Hot Water mixing
- Aesthetically pleasing (perfect for estates)
- 75% Electricity Saving(1.25kw Input) vs Element(5kw Input)
- Payback of between 1-3 years
- Warrantee Document Download HERE
---
How much electricity does your normal water heater use?
Based on test carried out by the CSIR (Council for Scientific and Industrial Research), it was found that between 40% and 60% of your household consumption, is used for heating your water. This piechart below shows what an average Electrical water heater consumes.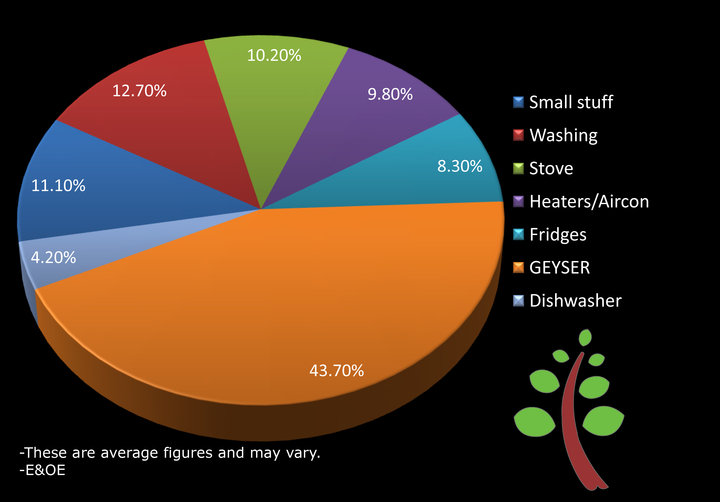 Based on this, an average payback period of 3 years can be expected.
---
The table below estimates your savings based on a 40% average saving, after instaling a solar geyser.
| Current Electricity Account | | | Saving Per Year (based on current electricity tariffs) |
| --- | --- | --- | --- |
| ± R 500-00 pm | ± R 300-00 pm | ± R 200-00 pm | ± R 2400-00 |
| ± R 750-00 pm | ± R 450-00 pm | ± R 300-00 pm | ± R 3600-00 |
| ± R 1000-00 pm | ± R 600-00 pm | ± R 400-00 pm | ± R 4800-00 |
| ± R 1500-00 pm | ± R 900-00 pm | ± R 600-00 pm | ± R 7200-00 |
***These figures are based on current tarrifs, the energy price hike percentage can be added to the annual savings to get future savings (ie. R 7200-00 + 35% = R9720-00 etc.).This would mean that after next years increase you would save R9720-00 on top of the R7200-00 this year.***
---
Solar Geyser Finance
Ask us about our financing options.
Follow these steps to check if you qualify for Solar Geyser Finance.
Click On The Below GreenFin Image (which will take you to the GreenFin website)

Click On The Alternative Energy Finance "Apply Now" Button.

Fill In The Quick Approval Form
The sun gives us free energy, why not use it?
---