SOLAR GEYSER CONVERSION
What is a Solar Geyser Conversion

?
When you already have a geyser (like your normal electrical water heater) we can convert this to a solar geyser.
Modern TECHNOLOGY allow us to add a Solar Panel, a Pump and a SMART Controller to your existing geyser.
This way you keep your geyser as is which brings the cost of the installation down considerably.
Your normal electrical element remains in your geyser, but is now controlled by the SMART Controller. It will only switch on your element if hot water is needed but the sun have not heated the water enough(for eg. when it has rained the whole day)
This SMART controller allows us to display the Temperature inside the geyser and inside the panel and set certain time zones for certain days. It also notifies you when the element is faulty or when the pump has failed. Its SMART internally but still very user friendly.
So in a few easy steps, we can save you R1000's a year by converting your normal geyser to a SOLAR geyser

NB: In order for you to achieve maximum savings, it is VERY important to size your system correctly. If you currently have a 200lt Geyser with 4 people in the house, it would be best to Size the solar panel accordingly. Overheating the geyser is VERY dangerous and too small a poanel will not heat effectively.
---
What is included in a 4 Seasons Solar Conversion System
a Flat Plate Solar collector OR a Vacuum Tube Solar Collector (more on this further down)
a Circulation Pump
a SMART Solar Controller
a Steam Release Valve (to protect the solar collector against overheating)
a Non Return Valve (to prevent backflow through the panel)
a Solar Launch Valve (to prevent Hot and Cold water mixing)
Shutt Off valves and fittings
Pipes and Pipe Insulation
---
How much electricity does your normal water heater use?
Based on test carried out by the CSIR (Council for Scientific and Industrial Research), it was found that between 40% and 60% of your household consumption, is used for heating your water. This piechart below shows what an average Electrical water heater consumes.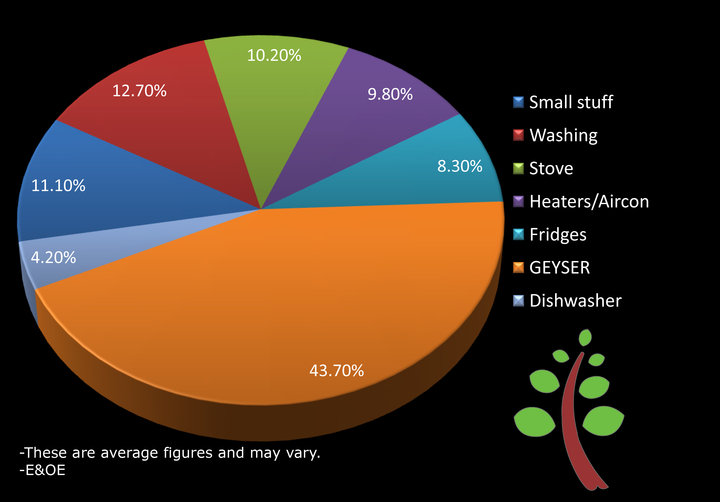 Based on this, an average payback period of 3 years can be expected.
---
The table below estimates your savings based on a 40% average saving, after instaling a solar geyser.
| Current Electricity Account | | | Saving Per Year (based on current electricity tariffs) |
| --- | --- | --- | --- |
| ± R 500-00 pm | ± R 300-00 pm | ± R 200-00 pm | ± R 2400-00 |
| ± R 750-00 pm | ± R 450-00 pm | ± R 300-00 pm | ± R 3600-00 |
| ± R 1000-00 pm | ± R 600-00 pm | ± R 400-00 pm | ± R 4800-00 |
| ± R 1500-00 pm | ± R 900-00 pm | ± R 600-00 pm | ± R 7200-00 |
***These figures are based on current tarrifs, the energy price hike percentage can be added to the annual savings to get future savings (ie. R 7200-00 + 35% = R9720-00 etc.).This would mean that after next years increase you would save R9720-00 on top of the R7200-00 this year.***
---
Solar Geyser Finance
Ask us about our financing options. You could get a loan from as little as R250pm at 16% interest.
The sun gives us free energy, why not use it?
---