Why choose a Solahart :
Solahart is the leading manufacturer of solar hot water systems in Australia and around the world, providing solar hot water to over a million Australian households and businesses.
Immediate

saving of

up between 50% and 90%

on your hot water energy consumption.
Conserving the environment - saving as much as

3 tons

of carbon gas emitions per year.
Protection from future tariff increases, increases of 8% ( up to 15% by municipalities) have been confirmed annually until 2015.
Rabates avaialbale from your energy supplier and certain banks.
A Geyser element = 3000 Watt, a light bulb = 60 Watt. (50 times more electricity per hour).
Having hot water when others might not (as long as there is sun, you wil have hot water).
The less energy you consume, the less your energy tariff.

---
Our Solahart product range (2 x sizes, various configurations)
*all configurations available in 9 common roof colours
Solahart 302
Solahart 181

- Indirect (Frost Resistant)
- Complete new system
- 4-6 people
- Natural Circulation

Configurations

- 302J -5yr Warrantee
- 302kf -5yr Warrantee and Improved efficiency
- FH 302J -10yr Warrantee
- FH 302kf -10yr Warrantee and Improved efficiency



- Indirect (Frost Resistant)
- Complete new system
- 4-6 people
- Natural Circulation

Configurations

- 181J -5yr Warrantee
- 181kf -5yr Warrantee and Improved efficiency
- FH 181J -10yr Warrantee
- FH 181kf -10yr Warrantee and Improved efficiency

---
Why not add an its 5.0kw Super Heat Pump and save even more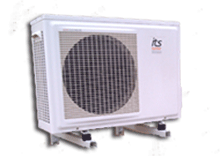 its

5.0kw

Super

Heat Pump
- Super Efficient Water Heating - The only Heat Pump in South Africa with a *Patented* integration technique, to prevent Hot Water mixing
- Aesthetically pleasing (perfect for estates)
- 75% Electricity Saving(1.25kw Input) vs Element(5kw Input)
- Payback of between 1-3 years
---
---
---