4 Seasons Solar Blog
#ClimateChange: What you should know!

16/02/2016
Climate Change and Eskom.... For South Africans, these two phrases could not get any closer to R-Rated Profanity. Both are often associated with a big change of lifestyle, shorter showers, less TV, switching off lights everywhere and MONEY. Both bring a sour taste in your mouth because there is always something negative associated with it.
In the case of Eskom, Directly we cannot do much. It's a state owned utility and we kind of rely on them like we do Oxygen. They are one of the best examples of a necessary evil. Now I say I cannot do much directly because my last name is not Zuma or Gupta (or more recently Zupta).
Indirectly though, we can do a lot. Eskom rely on you the consumer. They need you. They want you to use as much electricity as possible (even though they have this social obligation to kindly ask you to use less every time you watch your favorite soapie). Why? Because the more power you use, the more money they make, the bigger the increase they can ask from Nersa to build new power stations, starting the whole cycle again.
I also urge you to use less, but my reason is far more important, far more dangerous and far more necessary. The video below does a very good job of explaining why we should take Climate Change seriously.
This is just a short video of around 6 minutes but the real horror of climate change can be seen in three documentaries that's been doing the rounds.
1- An Inconvenient Truth - by Al Gore
2- The 11th Hour - narrated by Leonardo DiCaprio
3- Chasing Ice - by James Balog
Go watch these, It's very interesting and it's scary stuff. These documentaries explore the effects we humans have had on the planet and the increasingly changing climate. We have seen floods, hurricanes, tropical storms, snow storms, hail storms and unusually hot weather and droughts all in the last couple of years.

Now i'm no scientist, but if my car all of a sudden use more oil, water or fuel than normal something has to be wrong. So I investigate and try rectify the problem. These documentaries do just that. They show you WHY you should take climate change seriously and what you can do to help change it around.

If you are serious about giving your children and grandchildren a planet to live on you can start small.
Maybe a Solar Water Heater.
---
ESKOM Tariff Increases over the last 7 years.
09/02/2016
It's no secret that Eskom is asking for another Price Increase of 17% for 2016. So what does this mean for your pocket and what does the future hold.
So if you paid R1000 for electricity in 2008, by 2014 you would have paid R 3556. In 2015 the increase was 12.69%, bringing the total up to R4007 and if the 17% for 2016 is granted, you would pay R4688 , almost 5 times as much as 8 years ago.
The clients that bought a Solar Geyser back then would have saved (at 30% average) R4590 the first year but if they did not, by 2016 they would have paid R95 000 more on electricity already.
Eskom will get an increase every year, even if it is at least in line with inflation and as you can see, it's been higher than inflation for 8 straight years.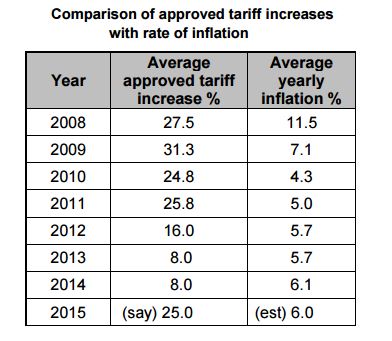 ---
Everything You Wanted To Know About Solar Water Heating Systems
21/10/15
The US Department Of Energy recently published the following article on their website, driven by the October #EnergySaverSolar month campaign.
It offers great insight into the different types of #SolarWater Heating systems and wat you should look at when making your decision.
Off course, we at 4 Seasons Solar are here to also answer any questions you might have, but this just gives you peace of minf\d that the Americans do things the same way.
You can read the full article by clicking on the link below...
Everything You Wanted to Know About Solar Water Heating Systems
Also do not hessitate to contact us should you have any questions by clicking on the contact me button below!
---
Green Mind Shift Helping Eskom
07/09/15
In a recent article on Fin24 it was written that although Eskom now appears to be the "Good Guys" by implementing less Load Shedding, It is actually YOU and ME that needs to get the glory.
By having a complete mindshift towards Green Alternatives, we have dramatically reduced Eskom's load and even though they are still way under target with the countries electricity needs, it now seems that they are making progress.
So thank you to the 1000's of people installing Solar Water Heaters and PV Solar Power.
You can red the article by clicking on the link below...
Green Mind Shift Helping Eskom on Fin24
---


20/05/15
There is a great android smartphone app available for free called "Grid Watch" brought to you by News 24. It will notify you of any load shedding in your area and it gives you a countdown clock of how long its scheduled to last. Its great for planning ahead. Another great feature is the integrated "TORCH" button, that lets you switch on your phones LED Camera light to act as a torch, should you find yourself in the dark.

If you do not have an android phone, you can simply log onto its webpage to get the same usefull schedules.

GridWatch Website - http://loadshedding.news24.com/

GridWatch APP - https://play.google.com/store/apps/details?id=com.news24.loadshedding&hl=en
---
Eskom Price Increase
18/05/15
Eskom Price Increase 1 July = 12.69%
You can read more about this tariff hike on Eskom's website by clicking HERE
---
---
---