ITS Heat Pumps
ITS Heat Pumps - The most efficient way to heat your geyser.

- Warrantee Document Download HERE
---
The its Heat Pumps range offers quiet operation while giving you class leading efficiency.
its Heat Pumps is the leading Heat Pump supplier in South Africa, claiming nearly twice as many Eskom rebates as any other supplier. With state of the art technology it has become the most popular Heat Pump in the country and continues to grow in popularity.
| | | |
| --- | --- | --- |
| ITS Heat pumps are design for low operating noise and can be installed anywhere around the house. There is no need for any solar panels on the roof as it simply sucks the heat out of the surrounding air and puts that heat into the geyser. | | |
| | | An its Heat Pump can be easilly connected to your existing geyser, or for the ultimate saving, to your solar geyser. a Patented solution was developed by its, to prevent mixing inside your geyser, something most other Heat Pumps in South Africa struggle with. So you can be assured of Hot Water throughout the day. |
| The new 5kw its SUPER Heat Pump is another jump in quality and technology not yet reached by competitors. This machine is the first in SA with a dedicated compressor, making it SUPER efficient and SUPER reliable. | | |
---
its 5.0kw Super Heat Pump and save even more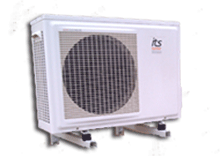 its

5.0kw

Super

Heat Pump
- Super Efficient Water Heating - The only Heat Pump in South Africa with a *Patented* integration technique, to prevent Hot Water mixing
- Aesthetically pleasing (perfect for estates)
- 75% Electricity Saving(1.25kw Input) vs Electrical Element(5kw Input)
- Payback of between 1-3 years
---
Why not supplement it with a Solar Geyser
Chromagen 300lt
Chromagen 200lt
Chromagen 150lt

- Indirect (Frost Resistant)
- Complete new system
- 4-6 people
- Natural Circulation

- Indirect (Frost Resistant)
- Complete new system
- 3-4 people
- Natural Circulation

- Indirect (Frost Resistant)
- Complete new system
- 2-3 people
- Natural Circulation
Solahart 302
Solahart 181

- Indirect (Frost Resistant)
- Complete new system
- 4-6 people
- Natural Circulation

Configurations

- 302J -5yr Warrantee
- 302kf -5yr Warrantee and Improved efficiency
- FH 302J -10yr Warrantee
- FH 302kf -10yr Warrantee and Improved efficiency



- Indirect (Frost Resistant)
- Complete new system
- 4-6 people
- Natural Circulation

Configurations

- 181J -5yr Warrantee
- 181kf -5yr Warrantee and Improved efficiency
- FH 181J -10yr Warrantee
- FH 181kf -10yr Warrantee and Improved efficiency

---